The June 22nd event at Busboys and Poets for THE NEW BLACK is SOLD OUT. But Community Cinema [DC] is going to extend the conversation through OVEE with a LIVE social screening at 5PM ET/2PM PT. More information at this link: https://ovee.itvs.org/screenings/ib61u
The June 22nd Community Cinema event is part of "The New Black" Freedom Summer Tour, commemorating the 50th Anniversary of Freedom Summer, when student volunteers from around the country joined organizers and African-Americans living in Mississippi to support freedom schools and voter registration activities.
Here are our guest speakers:
SAMANTHA MASTER
Samantha currently serves as the Youth and Campus Engagement Assistant with the Human Rights Campaign where she engages and builds with students, faculty and administrators at historically black colleges and universities (HBCU) to move forward LGBT inclusion on these campuses. She is also a member of the Beyond 100 Movement where she serves in training and capacity building.
TIM'M T. WEST

Black, gay-identified, feminist, POZ, and working class, Tim'm T. West has embraced all of who he is and, with laser-beam precision, harnessed the power of his truth to illuminate, celebrate, inspire, provoke, and bear witness. Tim'm grew up in Taylor, Arkansas and holds a B.A. from Duke University and M.A.s from Stanford University and the New School for Social Research. Tim'm is an educator and multi-discipline performance artist, author, hip hop recording artist, poet, activist and youth advocate. You can see Tim'm in Byron Hurt's "Hip Hop: Beyond Beats and Rhymes."
Kimberley McLeod
Guest Moderator

Kimberley McLeod is Founder and Editor-in-Chief of ELIXHER an award-winning GLAAD Media Award nominated website and magazine geared towards Black lesbian, bisexual, transgender and queer women. It features uplifting, engaging, empowering and intelligent content (everything from news to commentary to profiles to entertainment).
COMMUNITY PARTNERS
Busboys and Poets, Washington DC Jewish Community Center, Hill Center at the Old Naval Hospital, Center for Media & Social Impact, DC Shorts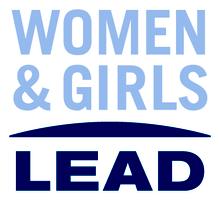 WOMEN AND GIRLS LEAD Community Partners – Washington, DC
American Association of University Women (AAUW), Girl Scouts of the National Capital Region, OneBlue.org, National Capital Chapter of the US National Committee for UN Women, Global Campaign for Education US Chapter, Institute for Policy Studies, Women In Film and Video